We continue in this series of looking at the best day trips from London where you can still capture the spirit of the English countryside even if you are in London just for a few days. This time we are going to look at one more tour in London, Windsor Castle and Hampton Court Palace before heading towards the Midlands and Warwickshire. Then we head in the opposite direction to the southeast to Kent, the Garden of England.
6. London, Windsor Castle and Hampton Court Palace
London Panoramic Tour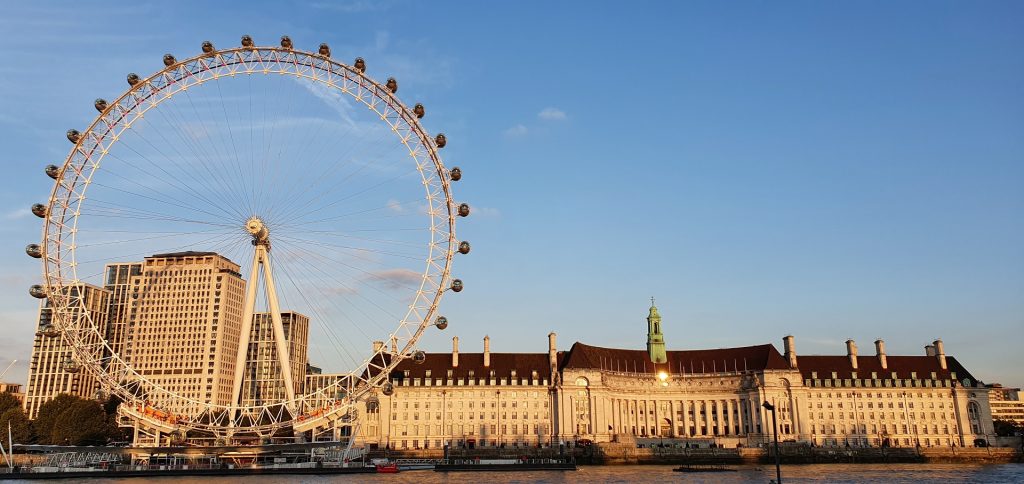 This tour is a full day and begins with a guided panoramic tour to some of the most famous sites in London including Buckingham Palace, St Paul's Cathedral and the Tower of London before heading west to Windsor Castle and Hampton Court Palace.
Windsor Castle
We have already talked about Windsor Castle in part one of this series. So please read it if you need to know more about it.
Hampton Court Palace
Hampton Court Palace is royal palace in the borough of Richmond upon Thames which is southwest of London and was built in 1515 by Cardinal Thomas Wolsey. He was the favourite advisor to King Henry VIII before he fell out of favour with Henry. Wolsey fell out of favour with the king because he failed to negotiate an annulment of his marriage to Catherine of Aragon so he could marry his latest desire, Anne Boleyn. Wolsey died in 1530 after being summoned by Henry to answer charges of treason.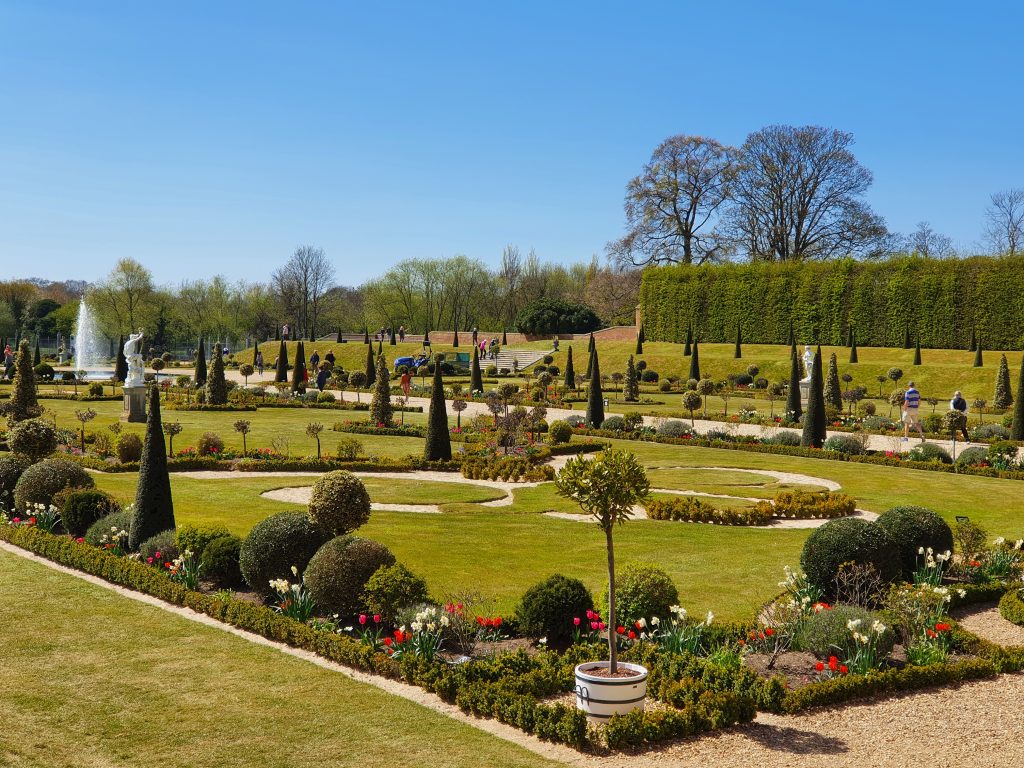 Henry VIII took charge of Hampton Court, turning it in to a hotel, a theatre and a huge private playground (was a keen tennis player), using it to demonstrate his enormous wealth. Sir Christopher Wren was commissioned to build an elegant new Baroque Palace after William III and Mary II took the throne in 1689. Hampton Court Palace was opened to the public in 1838 by Queen Victoria, and has remained one of England's most beloved historic attractions.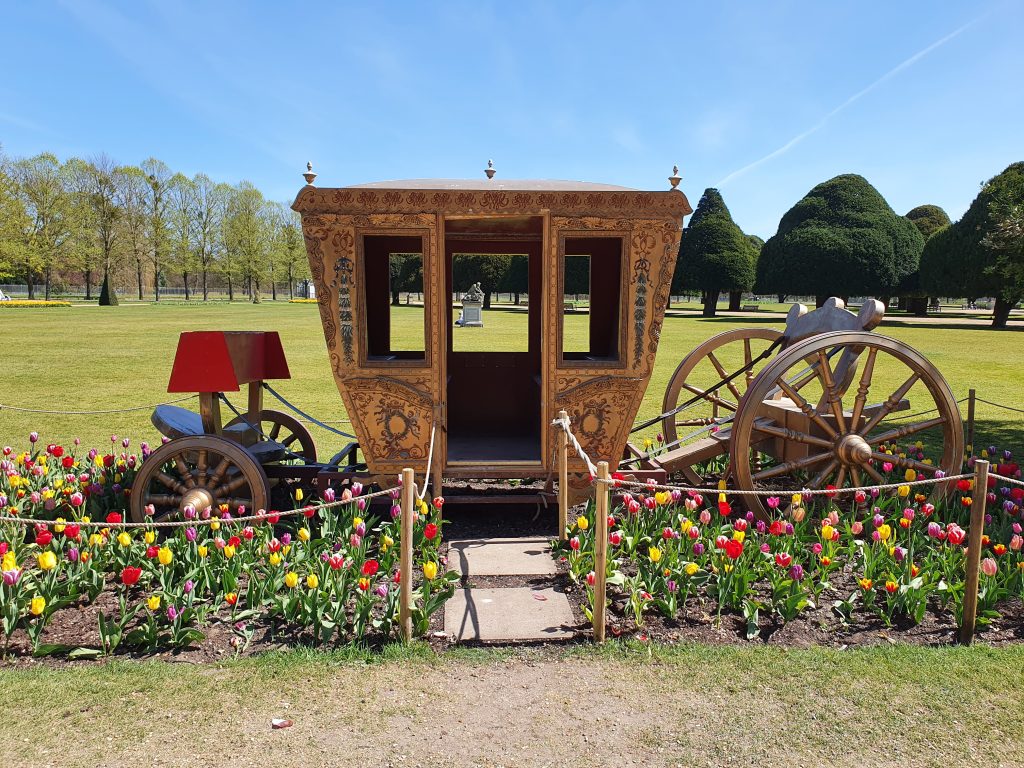 7. Shakespeare's Birthplace and The Cotswolds
This tour is a full day as it travels to Warwickshire where you can see canals and stairway locks and also the Cotswolds. The Cotswolds crosses several boundaries of the English counties. These are Gloucestershire and Oxfordshire although parts of Wiltshire, Somerset, Worcestershire and Warwickshire are also included.
Hear stories and interesting facts about the rich history of Shakespeare's birthplace, Stratford-upon-Avon and the Cotswolds, an official Area of Outstanding Beauty. These beautiful places have some of the most stunning spots in the UK.
Stratford-upon-Avon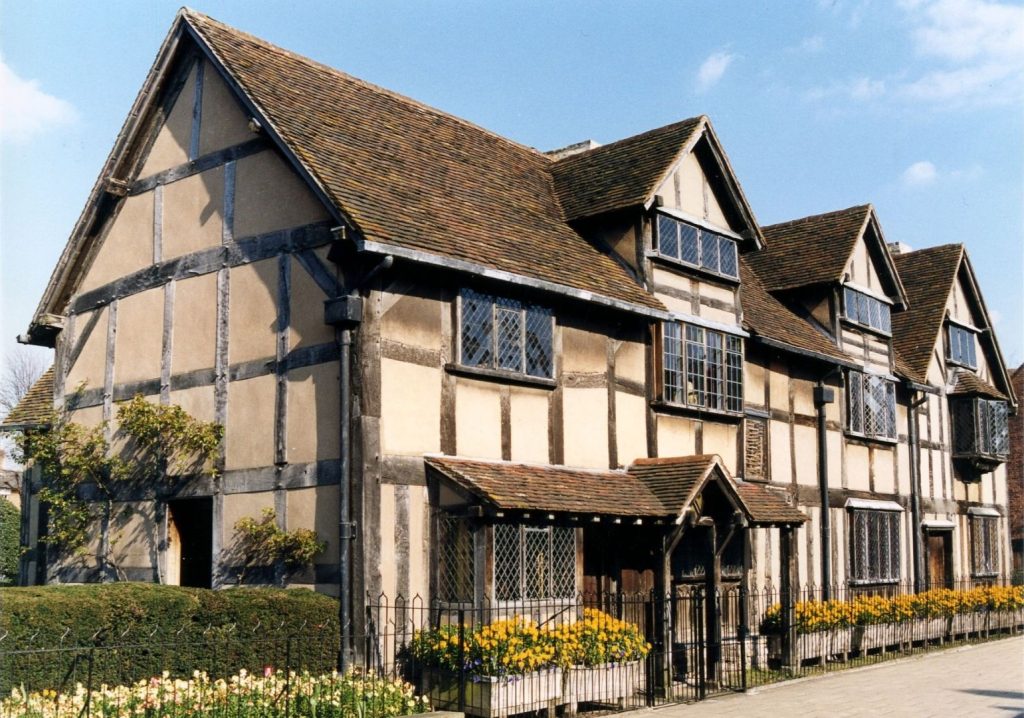 Stratford-upon-Avon is the home town of the 16th century playwright, William Shakespeare. You will see, the quaint, unassuming half-timbered house, the place the famous Bard was born and where he grew up. Learn amazing stories and oddities of Elizabethan lifestyle with a fascinating insight into tales of his family life.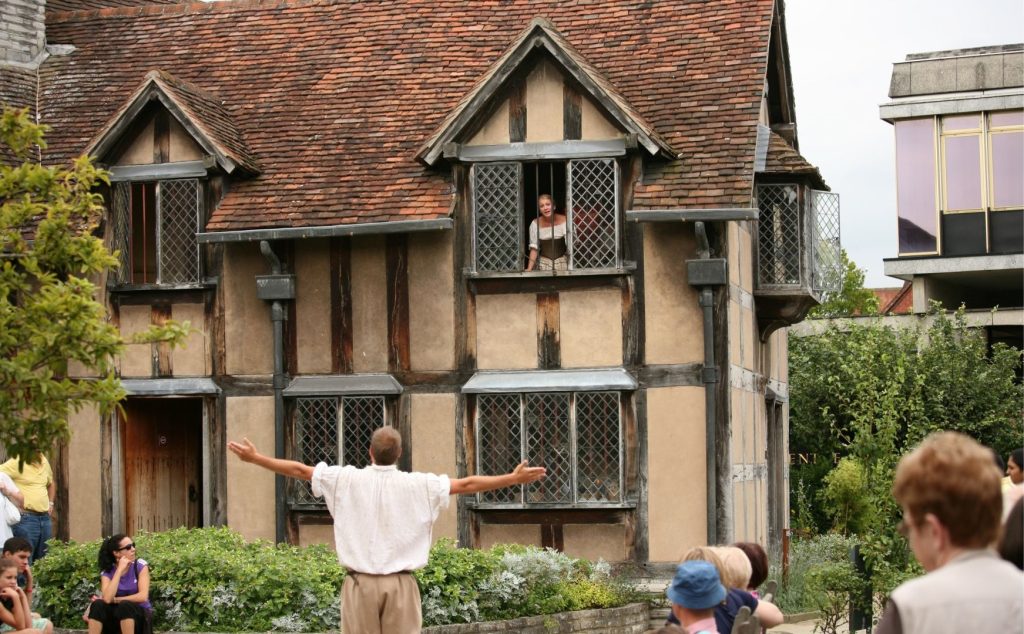 There's an opportunity to visit Shakespeare's bride Anne Hathaway's cottage and gardens. It is a beautiful thatched farmhouse where he courted his bride and still to this day, holds items and original furniture, including the Hathaway bed.
The Cotswolds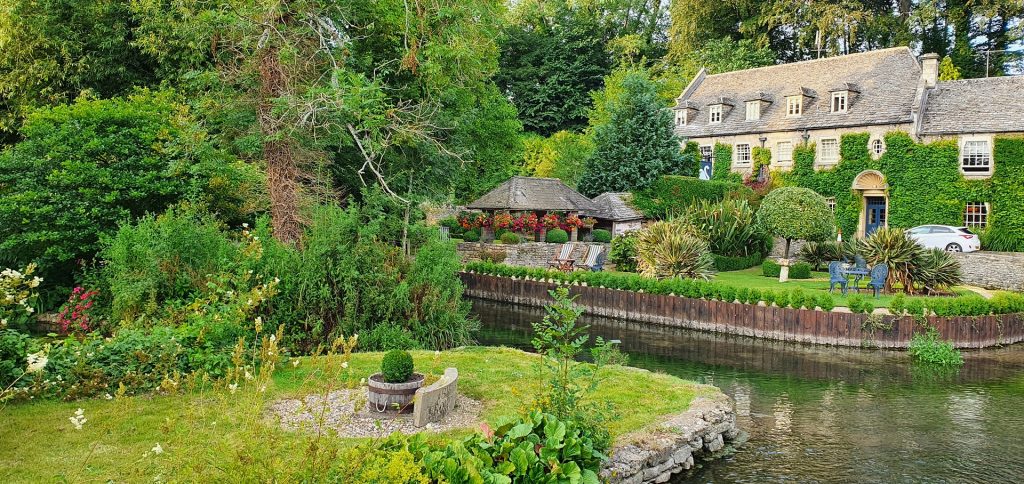 Visit what is often said to be one of the most beautiful areas in the whole of the UK. The Cotswolds was designated as an Area of Outstanding Natural Beauty. Quaint villages and breath-taking scenery, the Cotswolds has unmissable views of medieval villages and bustling market towns.
There are additional short photo stops at villages such as Bourton-on-the-Water, also known as 'Little Venice' due to its low bridges and Bibury a town once described by William Morris as 'the most beautiful village in England'. Arguably, it still is as it dates back to 1086 (The Doomsday Book)! There are a row of cottages in Arlington Row which were converted into a row of weavers' cottages in the 17th century though they date back to 1380 when the building was then used as a monastic wool store.
8. Warwick Castle, Shakespeare's Birthplace & Oxford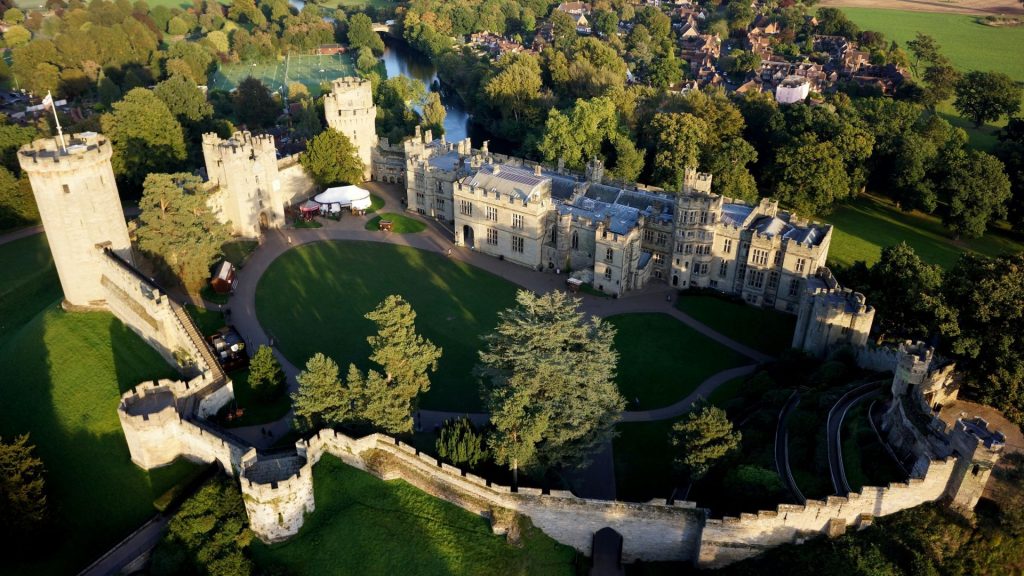 Shakespeare's Birthplace & Oxford
Like some of the other tour variations, we have alrerady touched on Shakespeare above and Oxford in part one of the is series.
Warwick Castle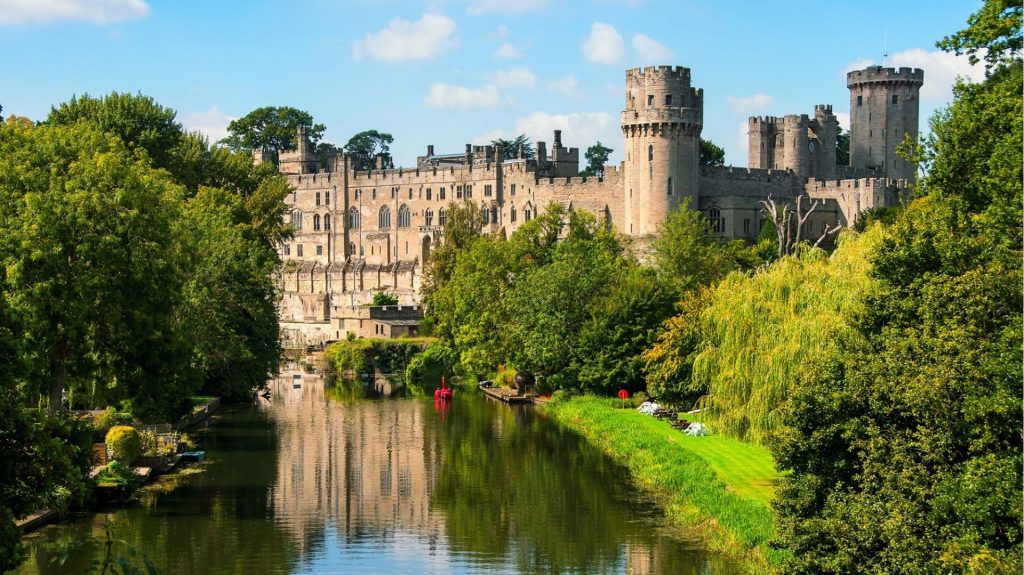 Warwick Castle is a medieval castle has over a thousand years of history. It has 64 acres of landscaped parkland and once belonged to the most powerful man in England, The Earl of Warwick. The 'Kingmaker' was the only man who dared to defy the King, and defeated the armies of King Edward IV in battle before taking the King himself as a prisoner.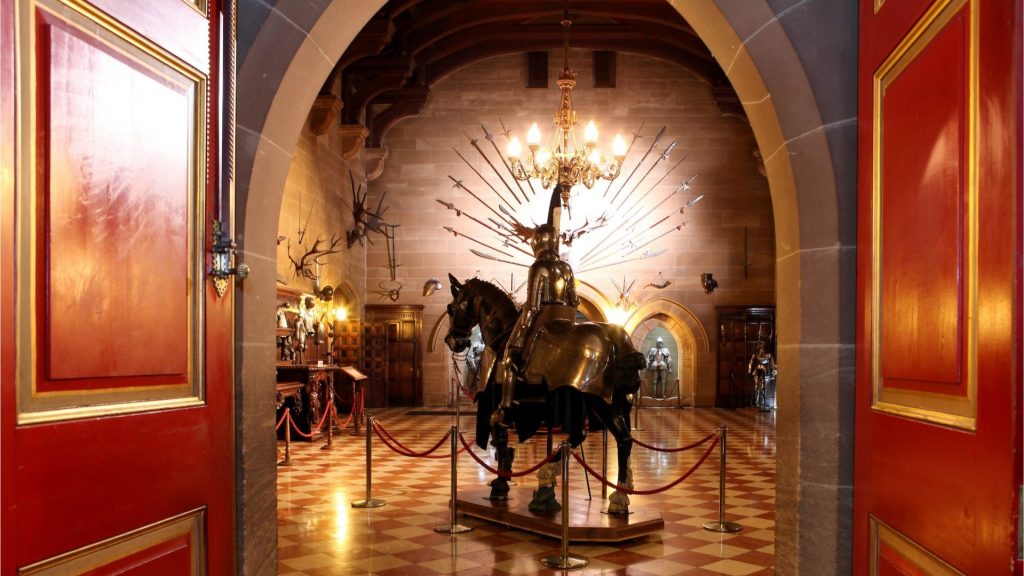 The State Rooms and 17th-century Great Hall; a room boasting an impressive collection of artefacts include suits of armour and medieval weapons. In the castle's 14th-century gaol, the original dungeon, are graffiti left behind by prisoners from hundreds of years ago.
9. The Cotswolds and Blenheim Palace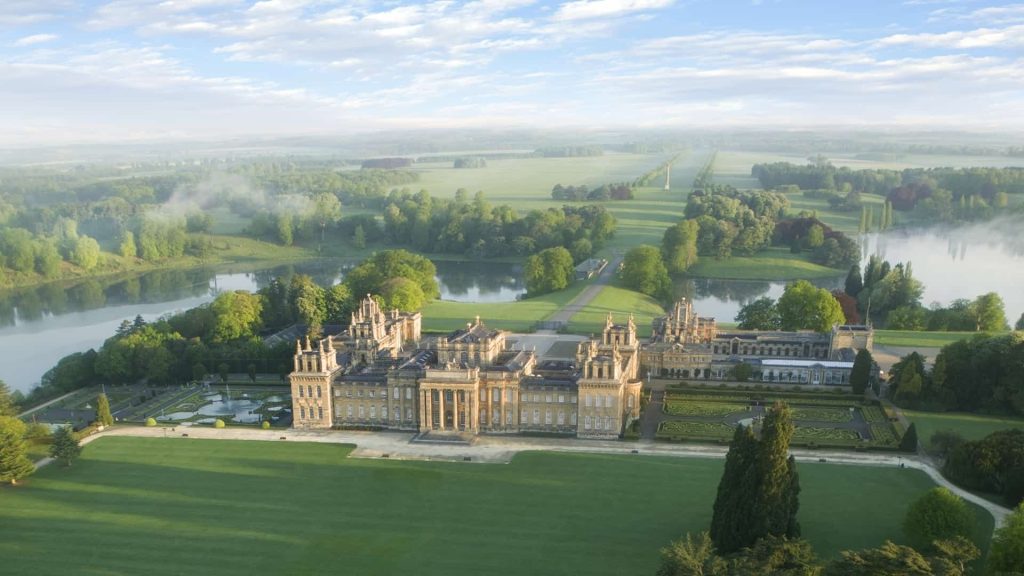 Set in the English countryside of Oxfordshire, is the beautiful Blenheim Palace. It was built in an English Baroque style in the 18th century and is a designated UNESCO World Heritage Site. It is also the birthplace and ancestral home of Sir Winston Churchill. You'll have the chance to discover the palace's sumptuous State Rooms, beautiful gardens designed by landscape architect Capability Brown and a lake.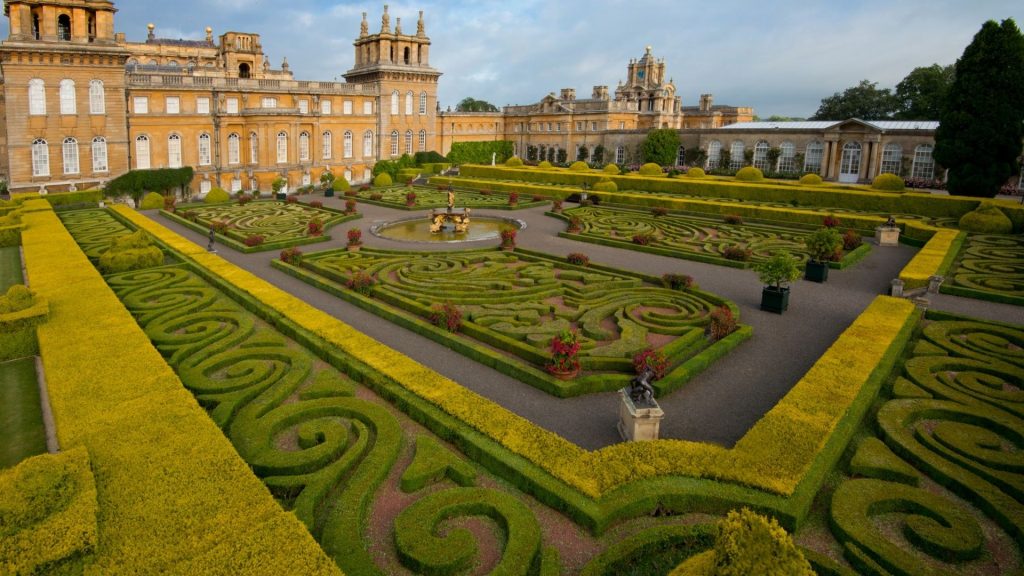 There is a fascinating and exclusive exhibition, where you will get a rare insight into the private world of Winston Churchill. The palace's formal gardens and parkland is where there's a spot where Churchill proposed to his beloved wife Clementine. The are plenty of artefacts, photographs, anecdotes and interesting facts from Churchill's extraordinary life.
10. Leeds Castle, Canterbury & Dover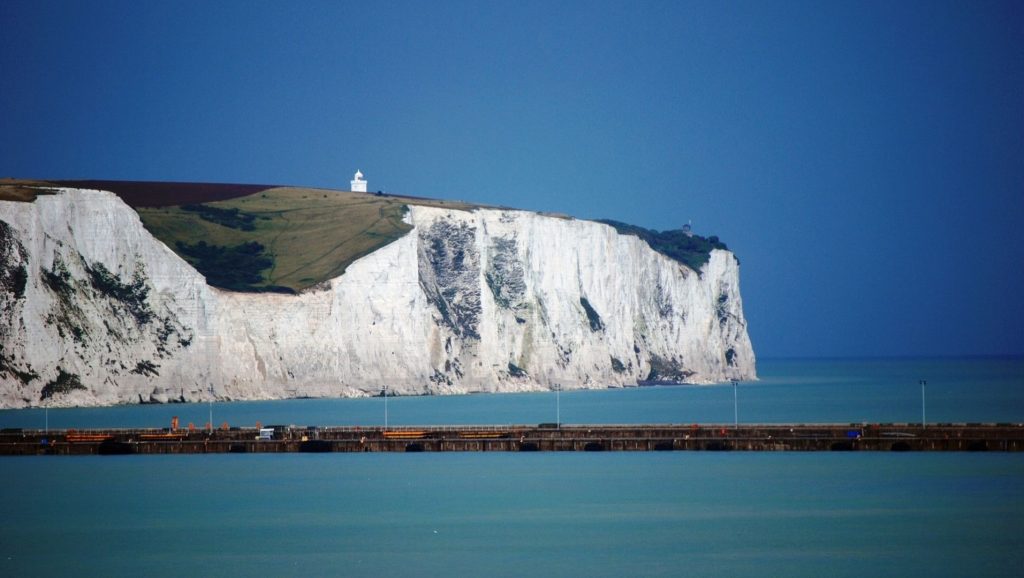 Journey into the heart of the English countryside as we visit the county of Kent, also known as the 'Garden of England' due to its lush rolling green hills, beautiful scenery and historic buildings. Visit the stunning 900-year-old Leeds Castle*, the historic UNESCO World Heritage Site at Canterbury Cathedral* and catch a glimpse of the spectacular White Cliffs of Dover.
Leeds Castle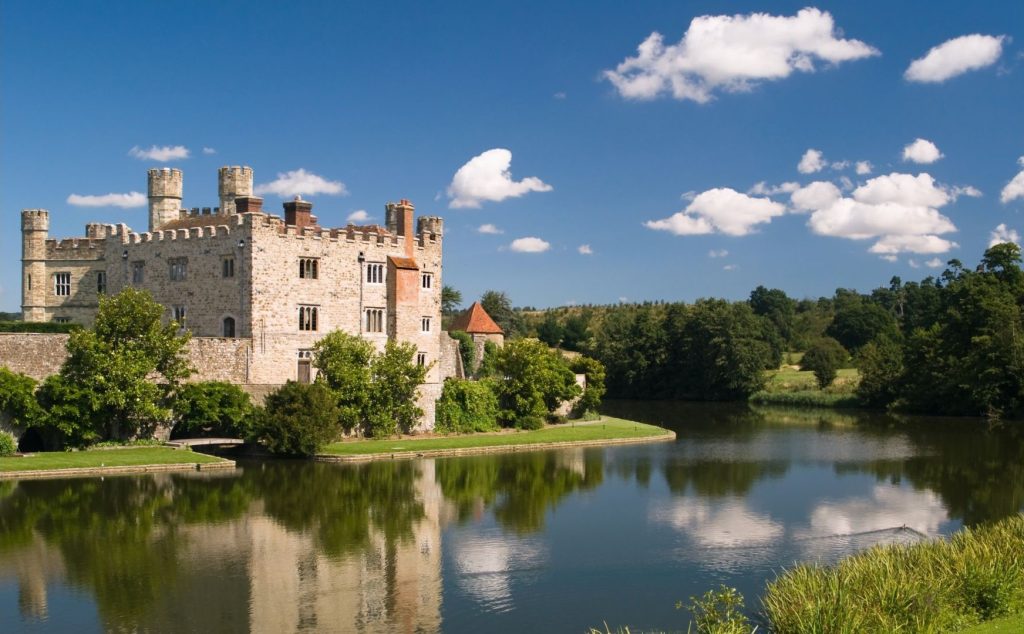 We begin our day trip to Leeds Castle from London by passing through historic Greenwich, an area of London known for its maritime history and classical building such as the Old Royal Naval College.
Often referred to as The Loveliest Castle in The World, Leeds Castle has played many roles in its nearly 900-year history. From a Norman stronghold to a magnificent royal palace, the castle today has been converted by subsequent owners into an idyllic countryside retreat.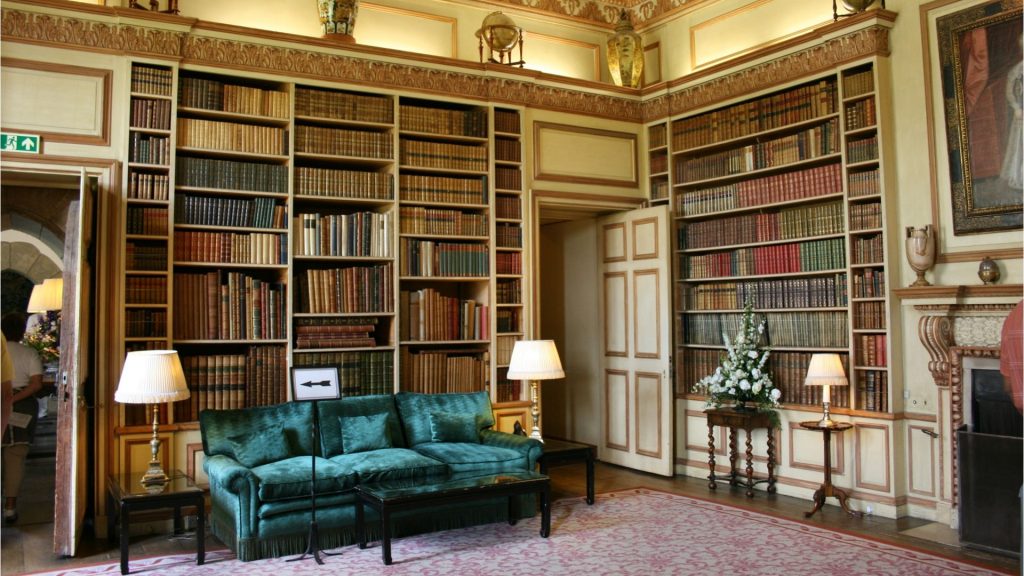 With 500 acres of parkland and landscaped gardens to explore, it's easy to see why this beautiful castle has been the private property of no fewer than six English queens.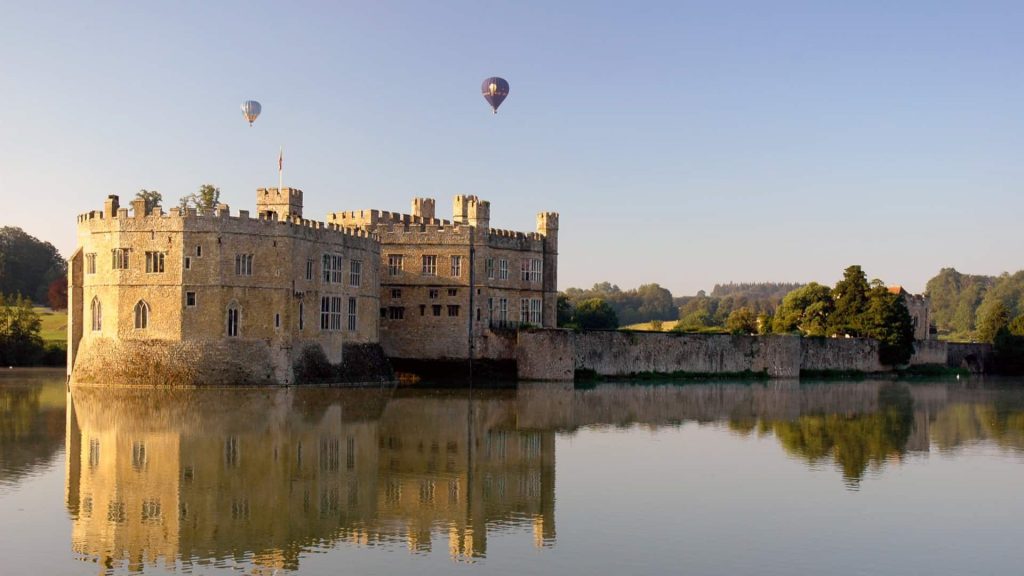 The Princess Alexandra Gardens alongside the River Len are a carpet of Daffodils, Narcissi and Anemones presenting a vibrant burst of colour. Later in the year, guests are treated to the splendor of Azaleas and Rododendrons.
Canterbury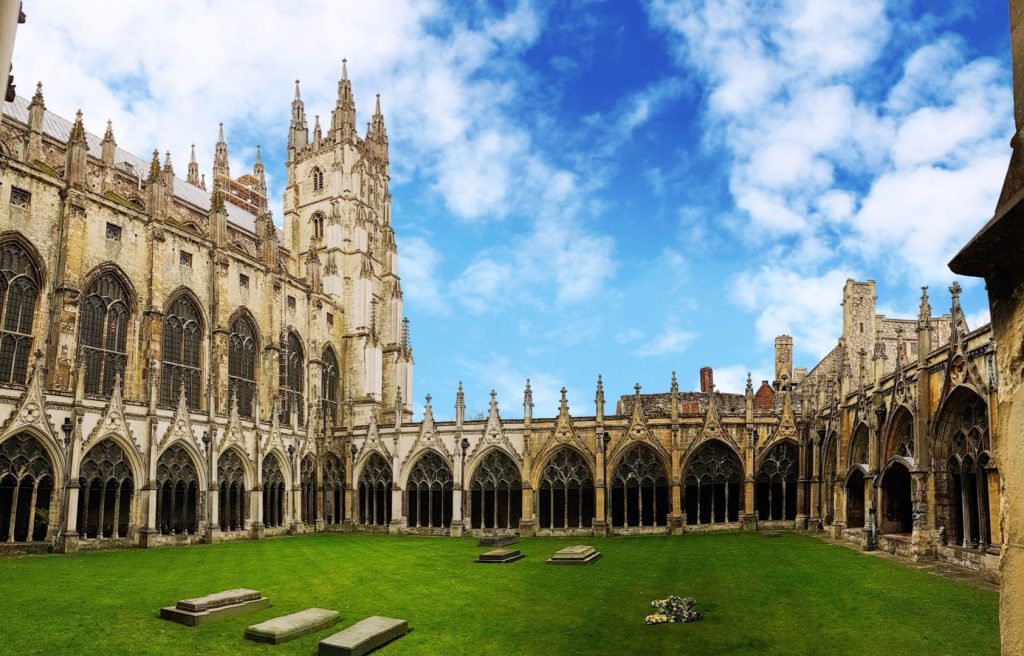 Canterbury is a beautiful and ancient city and is one of the jewels in Kent's crown. This historic city is characterised by medieval streets, great food and drink, and lanes of shops. At the heart of the walled city is the iconic Cathedral, parts of which date back to the 11th century.
Canterbury Cathedral
Pilgrims and visitors have made their way to Canterbury Cathedral since the Middle Ages. It remains one of the most visited places in the country, and, just as importantly, a working, living church and community.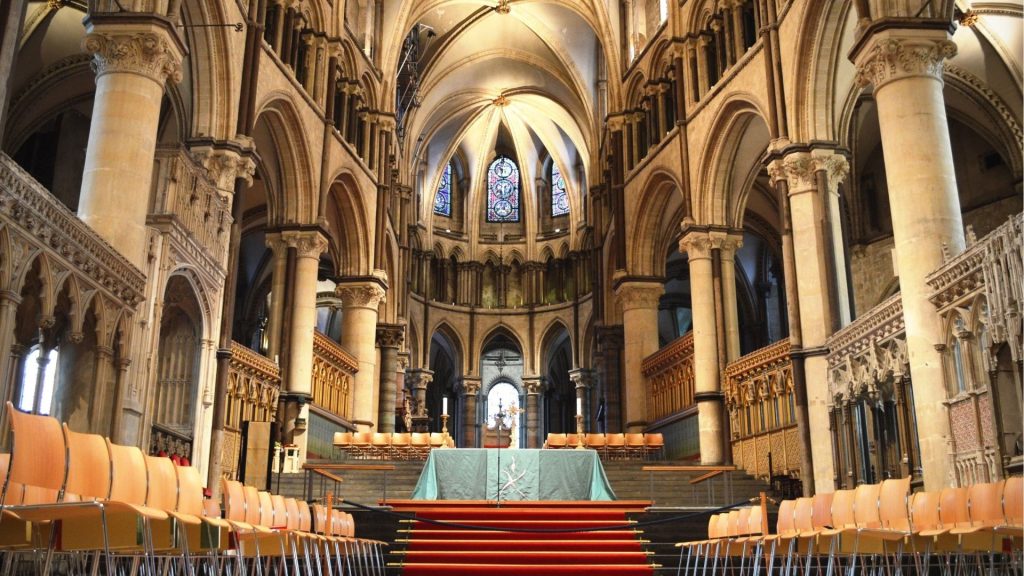 First founded by St Augustine in 600 AD, the Cathedral is a great example of Gothic architecture in England. Canterbury's role as one of Europe's most important pilgrimage centres as it cannot escape the link to the murder of its most famous Archbishop, Thomas Becket, in 1170. After a long lasting dispute, King Henry II is said to have shouted 'Who will rid me of this low born priest?' Four knights then set off for Canterbury and murdered Thomas in the place now called the Martyrdom.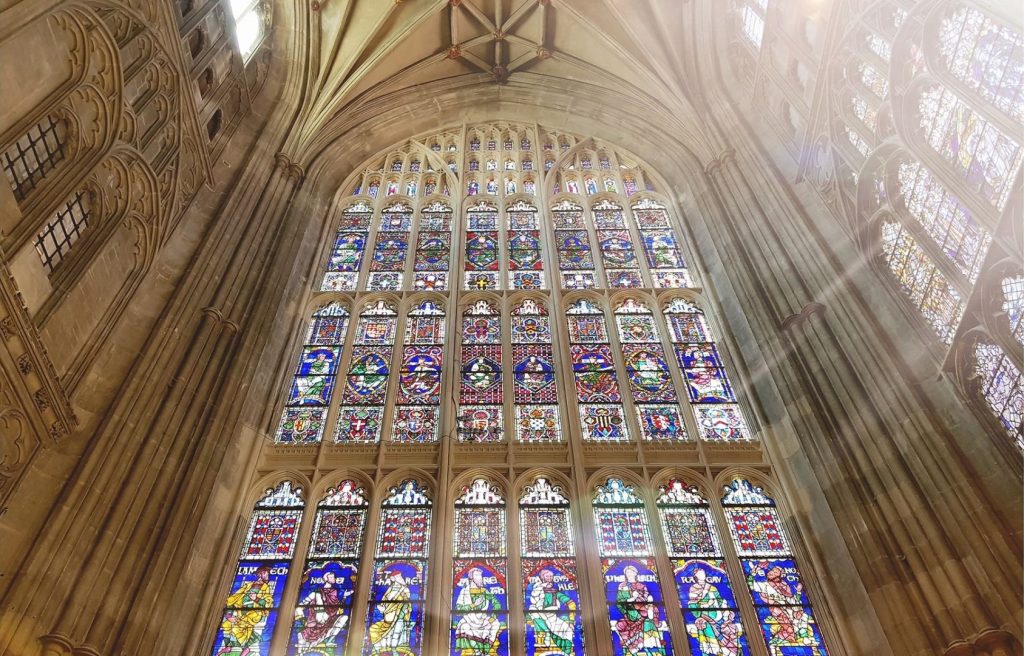 The Miracle Windows (Trinity Chapel) show some of the miracles that were said to have taken place after the murder of Thomas Becket. Many of the pilgrims visiting the tomb of St Thomas would not have been able to read and write and so stained-glass windows were meant to declare the glory of God as well as educate and 'entertain' pilgrims.
The White Cliffs of Dover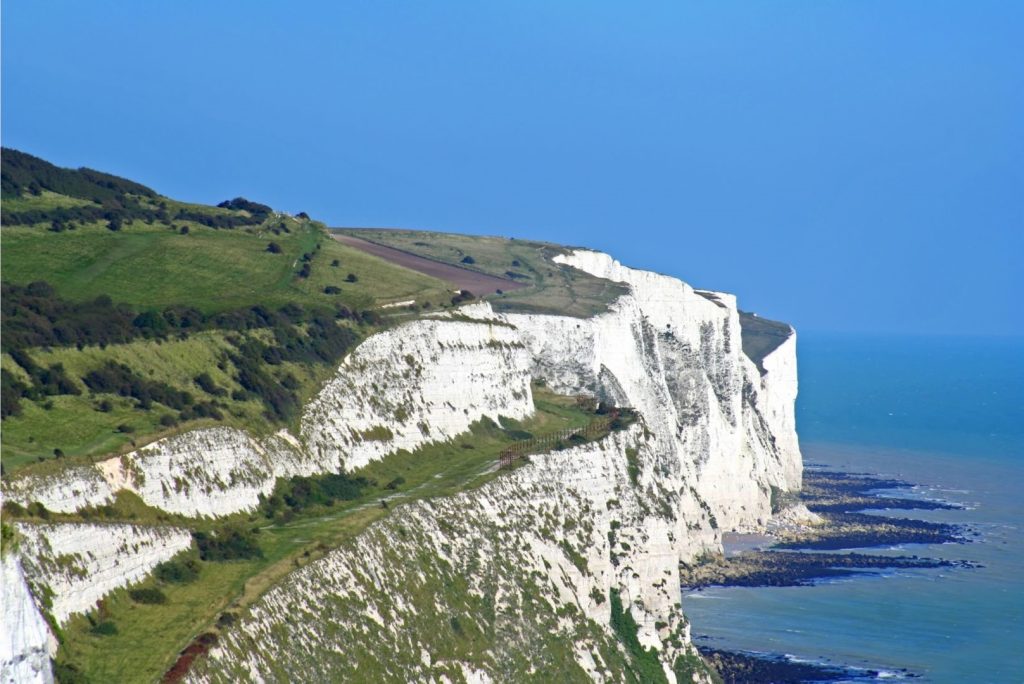 There can be no doubt that the White Cliffs of Dover are one of this country's most spectacular natural features. They are an official icon of Britain and have been a sign of hope and freedom for centuries. Dame Vera Lynn sang The White Cliffs of Dover, a Second World War classic. It was a war song that lifted the moral of the Allies.
There's a short stop for photos to enjoy the beauty and special appeal of this chalk grassland next to the English Channel which is just 21 miles (32 Kms) from the French coast of Calais.