Hidden London: Episode 11
The first Cabmen's Shelter was built in 1875 in St John's Wood. 60 huts were built though most were demolished. 13 still remain, with 10 in operation. The one in St John's Wood is still in operation along with others in Bond St.(Yes, though the tea isn't posh tea!), Northumberland Av next to Embankment station and Grosvenor Gardens in Victoria.
The shelters were built to be the same size as a horse and cart or waggons and drays. At the time, the Metropolitan Police regulations stated that because they stood on public roads the shelters could not be any larger. They are essence, just mini cafes for drivers of the black cabs officially known Hackney-Carriage drivers. A hackney carriage is more commonly called a taxi, or black cab. A licence is required for both the taxi and the driver of the taxi.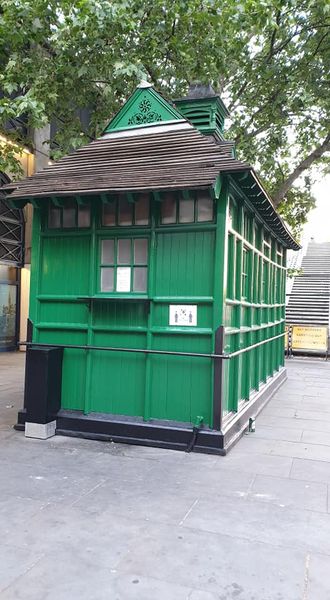 London's taxi services date back to the mid-1600s when horse-drawn carriages were first licensed to trade on the streets of London. The industry rapidly grew and it became necessary for the Government to limit the quantity of taxis on the streets. At that time it was decided to limit the number to just 300 as it was thought that this was the right number of cabs to cope with demand in the cities of London and Westminster.
The first petrol-engined cabs were licensed by the Metropolitan Police in 1904, and in 1907, to avoid disputes over the taxi fare, the "taximeter" was introduced to measure and display to both driver and passenger the distance travelled and the fare due. The name "taxi" was derived from the "taximeter" and has been used ever since. They remain the only taxis in the country that are licensed and rigorously controlled by a Police Commissioner.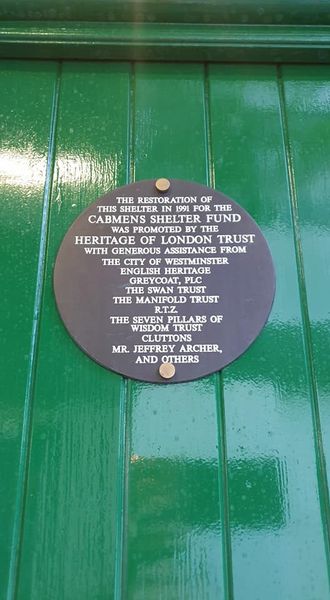 Today there are more than 25,000 licensed taxi drivers or "cabbies" in the London area. Whilst the traditional taxi colour of black remains the most common choice for London, a number of cabbies have turned the external surfaces of their vehicles over to advertising space which they sell to the highest bidder.
In order to become licensed in London, a taxi driver must first do 'The Knowledge' which is a tough three year struggle to learn every route to every street within a six mile (10kms) radius of the centre of London, Trafalgar Square. Watch out for trainee cabbies as many undertake learning 'The Knowledge' on a small motorcycle with maps, instructions and directions clipped to a board above the handlebars.
The nearest tube/underground/metro stations to some of these shelters are St John's Wood, Bond Street, Embankment, Russell Square and Victoria.