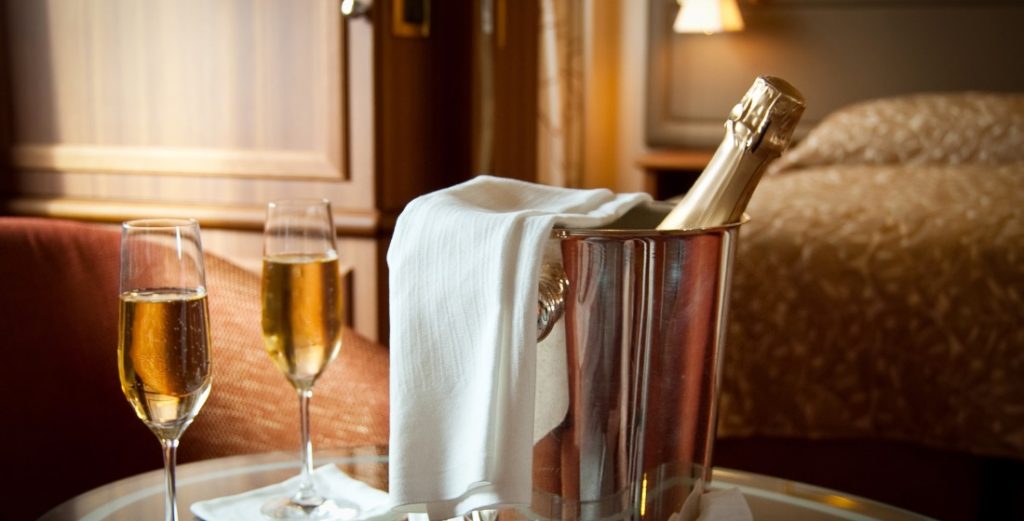 7 UK Luxury Resorts & Rural Retreats
Discover 7 extraordinary UK luxury resorts and rural retreats to escape the crowds and indulge in self-care, fine wine, exceptional food, and relaxation. From UK castles steeped in history and heritage, to islands off the coast of England that offer tranquility and privacy, if you really want to spoil yourself this summer, we have a list of wonderful staycation ideas for you to explore. How much will they cost? Well, as the 19th-century banker J.P. Morgan once said, if you have to ask the price, you simply can't afford it! Whether you prefer energetic hikes with breathtaking views or 5 star UK luxury resorts where you can be truly pampered, pour yourself a glass of Champagne, and let's get started.
1: Book A Helicopter To Tresco Island
A short 15-minute helicopter ride from Cornwall will whisk you away to Tresco Island, a hidden gem and rural retreat. One of five islands that form the Isles of Scilly, Tresco Island is an area of Outstanding Natural Beauty. As a family-run UK luxury resort, Tresco Island will help you and your loved ones escape the crowds this summer, and for a couple of days, become part of Scilly's tiny island community of only 150 permanent residents.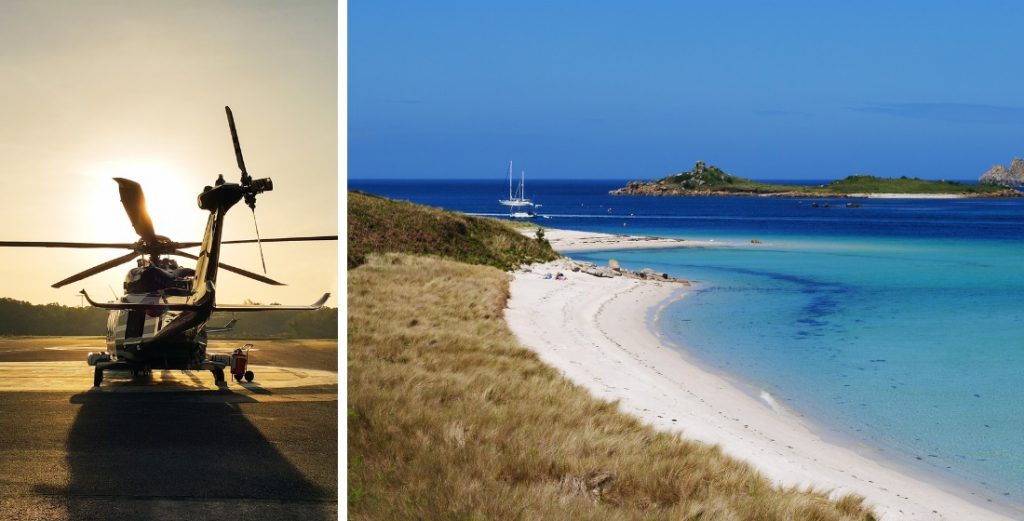 Awaken your senses and stay in your very own Sea Garden Cottage, with panoramic views of the white sands below. Venture barefoot to the onsite spa or enjoy a coffee in The Ruin Beach Cafe. Visit England has awarded the Sea Garden Cottages a Five Star Gold Award. During the day, you can snorkel with seals, book an island-hopping boat trip or hire a kayak, paddle-board, or motorboat and take to the open water.
2: Lime Wood Hotel, New Forest
As a 5 star UK luxury resort, Lime Wood Hotel in New Forest is set in the heart of New Forest National Park. Offering laid-back luxury and a secluded hideaway escape, this beautiful hotel and spa is close to the small and charming town of Lyndhurst.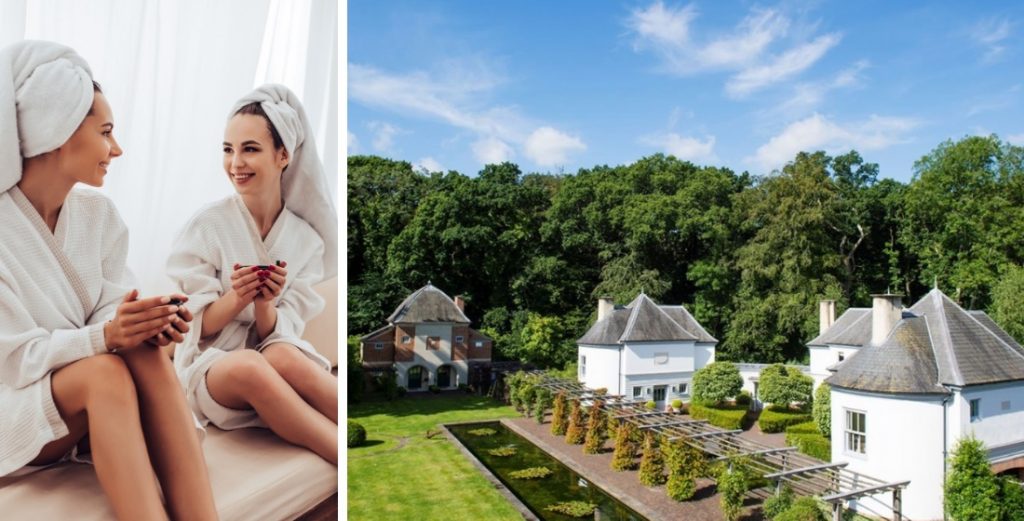 Only an hour and a half drive from London, Lime Wood is a place for rejuvenation and relaxation. Experience the Herb House Spa, which is beautifully placed inside a walled garden opposite the main house. With indoor and outdoor hydrotherapy pools, woodland view saunas, and aroma-steam rooms, you could easily spend hours soaking away any stress or anxiety you may have accumulated. After you're completely relaxed, take in the enchanting grounds and forest and stay in a charming self-contained garden suite. You can also try woodland archery, crossbow, and ax-throwing in New Forest or an afternoon of golf at Hamptworth Golf and Country Club.
3: Culver Down Manor, Isle Of Wight
If you're a fan of art deco, head to Culver Down Manor on the Isle of Wight. Able to instantly transport you back in time, experience the style, elegance, and creativity of this era in this self-catering luxury villa. Former guests of this UK luxury resort include members of the House of Lords, a senior UK Government minister, and several members of the UK press.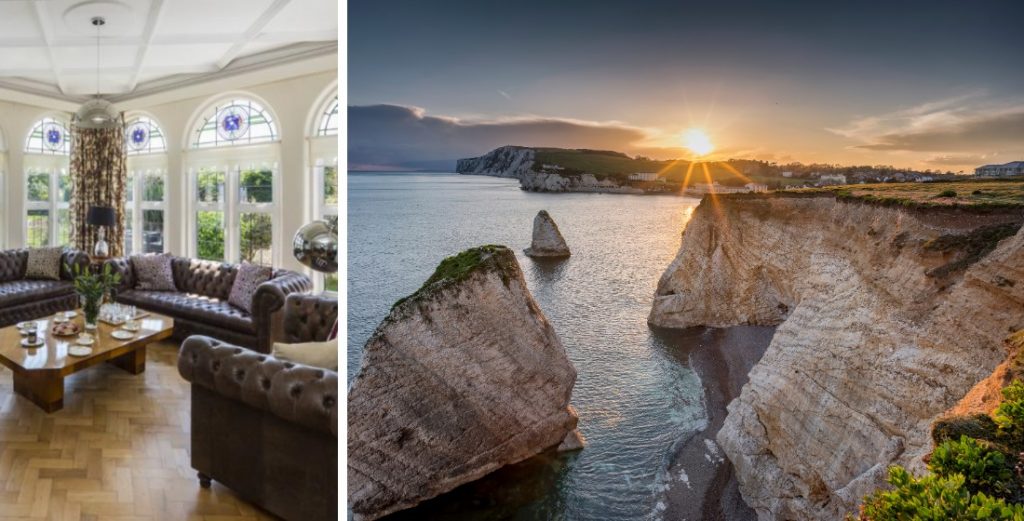 Turn your stay into a culinary adventure, and have one of the Isle of Wight's top chef's cook exclusive for you and your party at Culver Down Manor using locally sourced ingredients. Joint owner Sharon can also pre-order Champagne and fine wine for your arrival should you wish to mark a special occasion or simply make the most of your stay.
Marvel at the magnificent sunset on the Isle of Wight, as it illuminates the stained glass windows of this 1930s inspired home. Explore the coast, with over 500 miles of footpaths and walking routes to trek. Or see this rural retreat from high above by booking a paragliding experience.
4: Luxury Scottish Road Trip
If you fancy a UK road trip this summer, travel in style with a super luxury VIP coach trip. Becoming a popular way to visit several UK destinations in one holiday, while enjoying the comfort of a VIP private coach, this is a great way to travel as a young family. You'll have access to an onboard luxury private bathroom, wrap-around sofas, and delicious refreshments while on the road.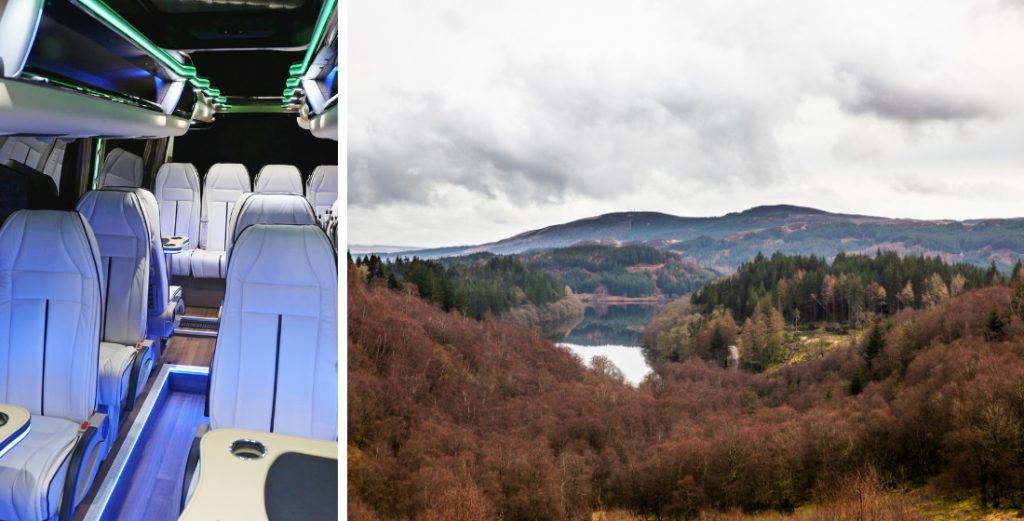 Start your luxury coach trip at Loch Lomond, part of The Trossachs National Park. Then head to Cowal Peninsula for an authentic taste of the Highlands. Picnic at Benmore Botanic Garden, situated in Strath Eachaig at the foot of Beinn Mhor. This part of Scotland is also home to world-class sailing grounds, so why not enhance your holiday and book some sailing lessons along the Scottish coast.
5: Stay In Roch Castle, Pembrokeshire
If UK castles have always fascinated you, the 12th-century Roch Castle is somewhere you must stay this summer! Nestled in the stunning Pembrokeshire Coastal National Park. Roch Castle can be privately booked as a large group, making it a perfect UK rural retreat.
As a UK castle, it is a Grade I listed building and features a winding staircase, turrets, and a sprawling Court Room. Close by is Newgale beach, where you can watch the sunset or paddle in the gentle waves. Upgrade your trip by booking a concierge service, which can include a private chef as well as stargazing experiences. A historic rural retreat, staying in Roch Castle will make for an unforgettable experience in South Wales.
6: White House, Island of Herm
Charter your very own private yacht and set sail to the Island of Herm, one of the Channel Islands. This rural retreat is car-free, crowd-free, and stress-free. A perfect UK luxury resort, Herm Island offers plenty of unspoiled beaches, great swimming spots, and a variety of restaurants popular with boat owners.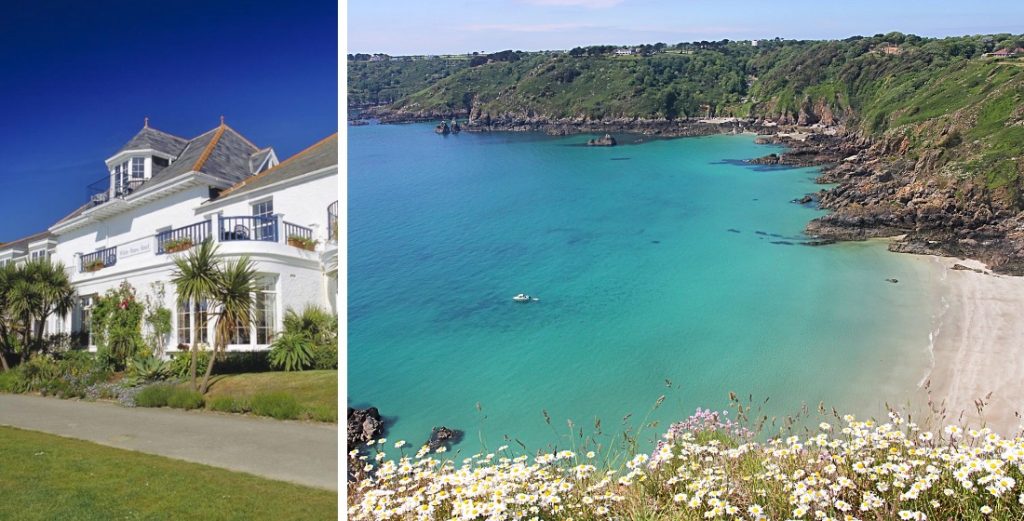 Stay at The White House Hotel, a stone's throw away from the white sandy shore and turquoise water of the coast. With a sun terrace and outdoor swimming pool, order a poolside cocktail and take things easy after a fun-filled day out at the beach.
For a digital-free escape, be sure to book a yoga retreat on the Island of Herm and focus your energy on self-care and inner peace rather than responding to emails or meeting deadlines. Herm is all about relaxation and the beauty of Mother Nature. Go dolphin spotting, diving, or yachting and see if you can spot one of the 18th-century shipwrecks along the coast.
7: Port Lympne Hotel & Reserve
Combine stargazing and an exceptional safari park experience in your very own bubble. One of the most glamorous ways to get close to nature and enjoy 180-degree panoramic views of the 600-acre nature reserve.Sink into the king-size bed and gaze above at constellations, or take a bubble bath and see if you can spot a giraffe in the distance. This UK luxury resort also includes a safari excursion where you will have the chance to see bears, zebras, giraffes, wildebeests, camels, and more.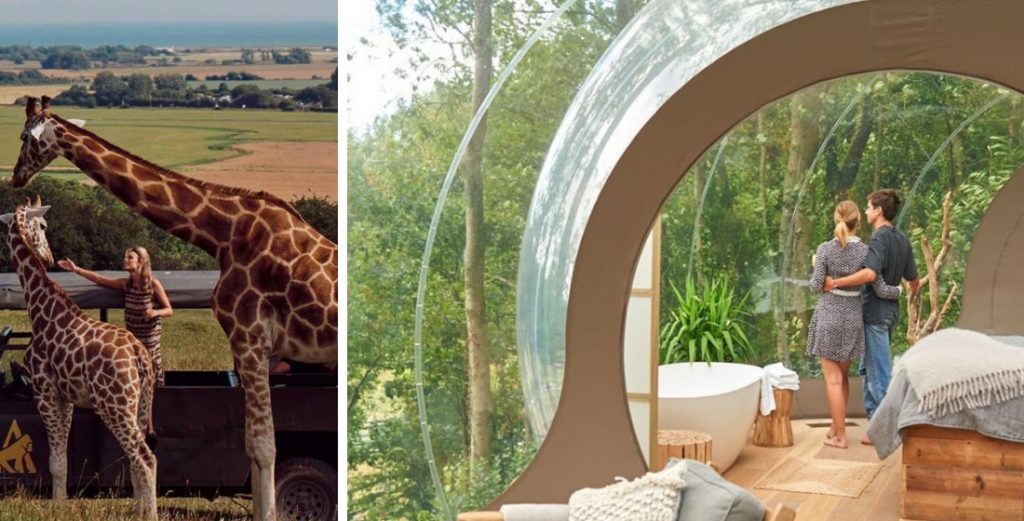 Port Lympne Hotel & Reserve is only a short hour drive from London and is perfect for a surprise staycation idea. For anyone who loves nature, wildlife documentaries, and luxury retreats, staying in a bubble dome within the reserve would certainly be a dream come true! Or, perhaps you'd prefer to sleep among the treetops in your very own private treehouse! Sip Champagne on your balcony and watch the sunset over Kent as you take in this unique staycation experience.