Fancy visiting some of the best vineyards in England this year? Since wine tasting in France and Italy are pretty much off the cards for 2021, let us introduce you to 7 luxury wine tasting tours you can book right here in the UK. Explore the complexity, delicate flavors, and top notes of English grapes while learning from the best wine connoisseurs in the country. The perfect staycation idea for those who enjoy a full-bodied red, a crisp and dry white wine, or perhaps a sparkling glass of Nyetimber.
1: Exclusive Experience At The Nyetimber Estate
Book a private wine tasting experience at the Nyetimber Estate. This historic vineyard in West Chiltington in the south of UK, was first mentioned within the Domesday Book in 1086, spans three different sites. Sussex, Hampshire, and Kent each provide perfect chalk soil and plenty of sunshine to yield a healthy harvest of ripe, juicy grapes. The fruit is then picked to produce Nyetimber sparkling wine with fine bubbles and spicy aromas.
During an exclusive experience at Nyetimber Estate, you'll be treated to world-renowned sparkling wine, with canapes and a four-course paired menu in the White Barn. Created by esteemed Chef Michael Caines MBE, this is certainly a rare opportunity to dine and enjoy the elegant surroundings and exceptional wine pairings. However, this experience is extremely popular, so make sure to sign-up to their email list or risk missing out!
2: A Welsh Wine Tasting Tour
Book a romantic weekend away at the UK's first Vineyard Hotel. Llanerch Vineyard in the heart of Wales, offers 5-star luxury accommodation, award-winning food, and the opportunity to book a wine tasting tour. The Taste of Cariad experience involves one of the oldest grape-growing estates in Wales, Llanerch.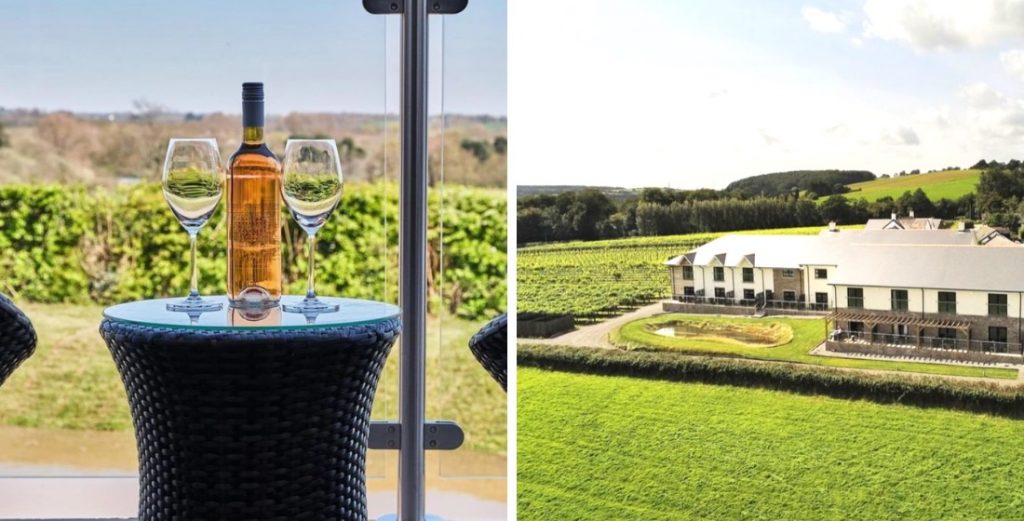 Enjoy what exceptional flavours the green vines of the Glamorgan Valley has to offer as you test your palate under the guidance of a local Welsh wine expert. Then once merry, take a seat in the stunning on-site restaurant for an intimate dinner for two, before heading to your suite with countryside views of the rolling hills and vineyard estate.
3: Boutique UK Vineyard In Worcestershire
Family-run Astley Vineyard in Worcestershire focuses on producing traditional English white grape varieties such as Bacchus and Cepage Kerner. With a dedicated wine tasting room and on-site shop to take home a bottle or two for a special occasion. Astley Vineyard wine tasting tours are often sold out, but if you're lucky enough this year, you can book a group wine tasting tour and explore the beauty and flavour of the Severn Valley, once the most northerly vineyard in the world! With only 5 acres to the estate, this is a boutique UK vineyard and an intimate place to enjoy elegant British white wine in the peaceful sleepy countryside.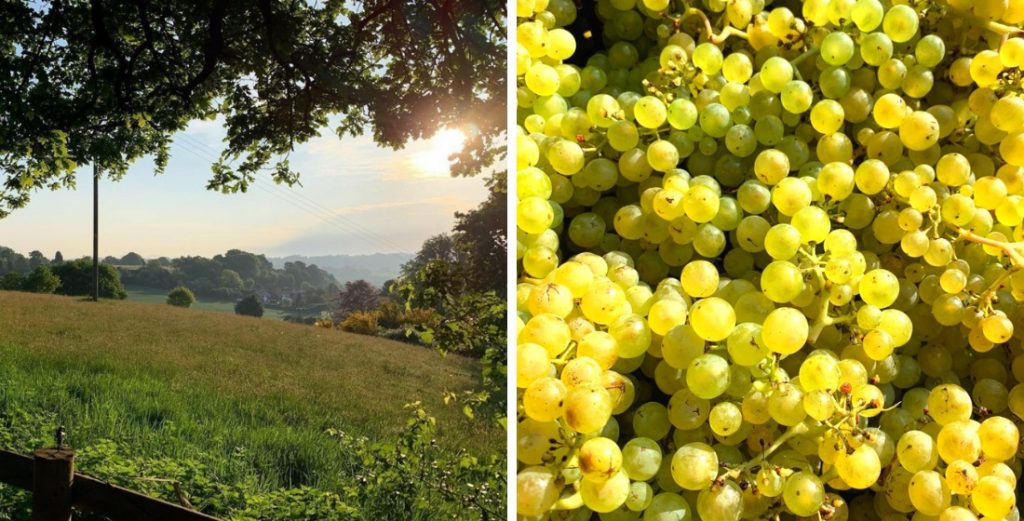 The ancient woodland nearby provides biodiversity and prevents pests and wildlife from spoiling the crop. So, if you'd like to book a more laid-back and charming Northern wine tasting tour, head to their website and book a rural wine tasting day out for two.
4: Private Wine Tasting Picnic At Giffords Hall
Vineyard in the heart of the Upper Stour Valley. Family-owned, this UK vineyard is set on an ancient glacial riverbed near Long Melford. With ideal sandy clay soil, the valley produces high-quality English grapes that are used to make both sparkling and dry aromatic wines. Dating back 25 years, the vines at Giffords Hall are now in their prime. So, why not book a picnic box filled with smoked salmon and dill pate, fresh bread, butter, a selection of local cheese, or a Gold vineyard tour and dine al fresco with friends or family while tasting your way through their selection of award-winning English wine.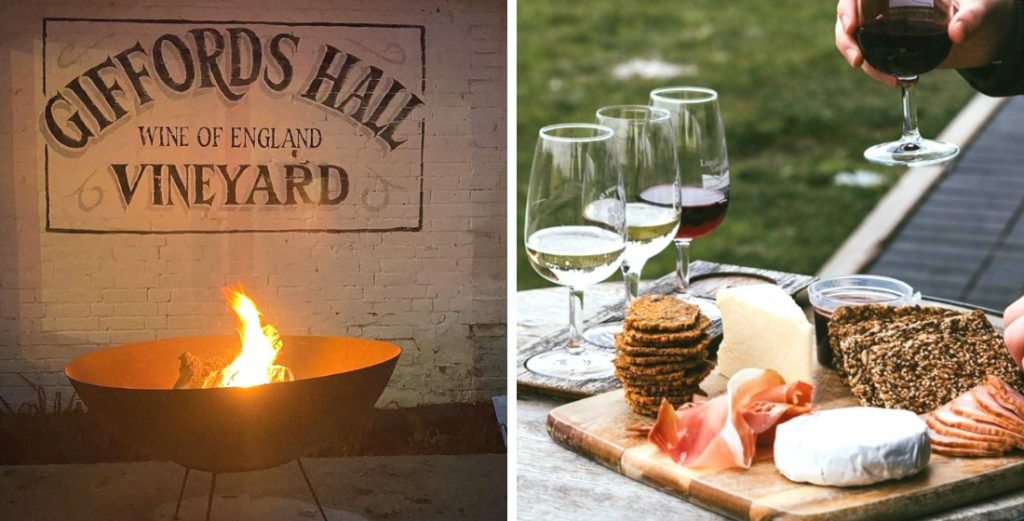 For something to take home, you might also be tempted to try one of their English liqueurs made with 80% fresh fruit and fine high-grade pure vodka.
5: Raise A Glass At 840ft Above Sea Level
Sheveling Wine Estate is the highest set vineyard in England and gives wine loves the unique opportunity to enjoy wine tasting in the heart of Yorkshire. At 840ft above sea level, it is also famous for being the filming location of Last of the Summer Wine. While the height certainly impacts the crop, the vines also withstand sub-zero temperatures and grow on steep and rocky hillsides.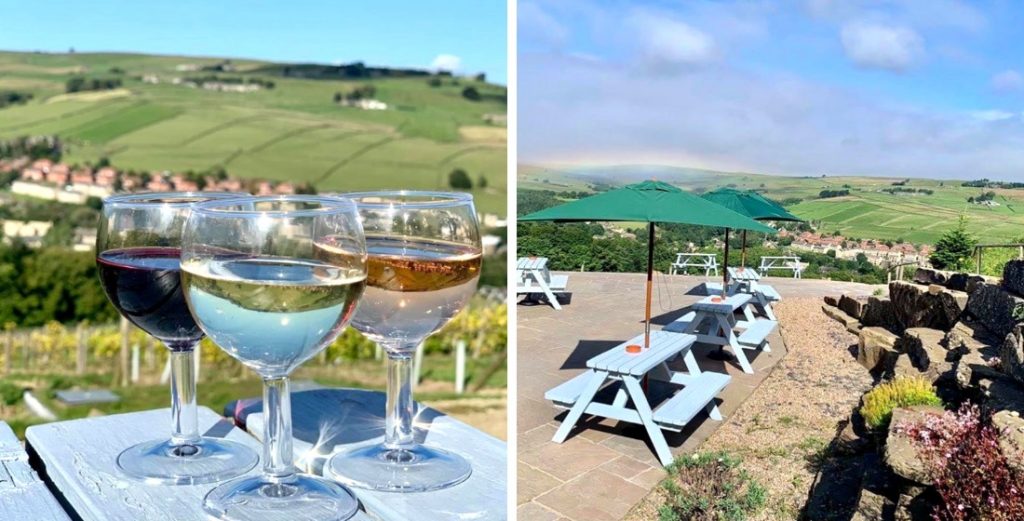 Yet, despite all odds, Sheveling Wine Estate produces exceptional and delicious wine and hosts late afternoon and evening wine tours. Book a two-course lunch with a vineyard tour and wine tasting experience for £65 and learn about the hybrid grape varieties that thrive in this particular part of the country. Gain an insight into the production and process before sampling a selection of home-grown Yorkshire wines. You can also stay in one of seven vineyard retreat apartments at the foot of the vines, which overlook the Peak District National Park.
6: International Award Winning UK Vineyard
Rodington Vineyard in Shropshire is a family-run international award-winning vineyard. Taking advantage of the fertile soil in Shropshire, the family fulfilled their dream to own a vineyard in England and now host wine tasting tours. Having only been open since 2015, Rodington Vineyard has made a name for itself, winning a number of local, national, and international awards such as Best Medium Dry White Wine Trophy and Silver Medal in the International Wine Challenge, thus putting Shropshire on the International wine map.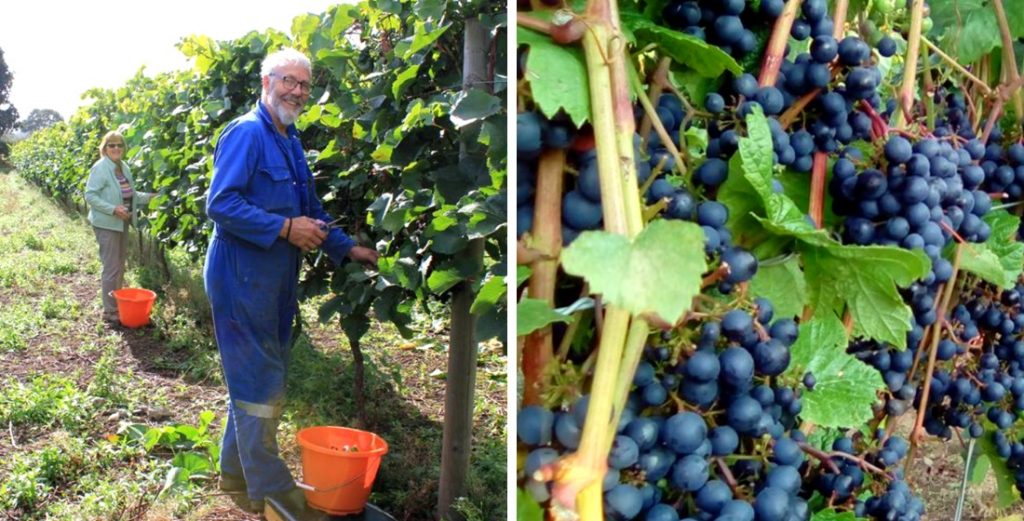 Book a wine tasting tour at Rodington Vineyard for £25 per person. It's a wonderful destination for a summer's day out in Shropshire where you can learn about English wine and sample their local produce.
7: Organic & Biodynamic Wine Tasting
Ancre Hill Vineyard is on a mission to produce British wine that is made to the highest environmental standards possible. With a perfectionist's attention to detail, this UK vineyard is committed to making biodynamic wines. Visitors can learn about the principles and philosophy behind this unique and eco-friendly approach, as well as taste the range of still and sparkling Welsh wines on offer. South-facing, Ancre Hill Vineyard has 12 hectares of lush vines, which are well-positioned across the Wye Valley. Using traditional processes and organic viticultural practices, this vineyard and winery use the ancient mudstone and sandstone soils to create exceptional wine variations.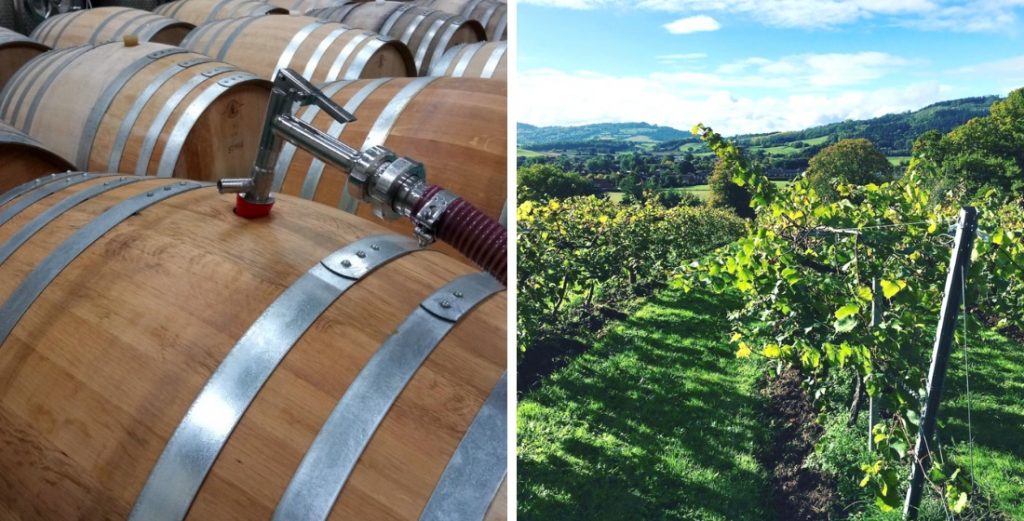 Guided wine tours are available twice a day and last one hour. Relaxed and educational, you'll explore the vineyards, learn about the importance of biodynamic methods of winemaking and then sample organic natural wine. There is even an option to adopt a vine, which is a gift package that includes your name on a plaque on a vine of your choice, lunch at the vineyard, a wine tasting tour, free access to the vineyard, a bottle of Estate wine, and a return trip to join the team to harvest your vine and pick the grapes yourself.