Get into the Christmas spirit this year with a festive river cruise. A marvellous way to celebrate the holiday season, a Christmas cruise will give you the opportunity to spend precious time with loved ones while taking in the sights across the UK. Whether you prefer a luxury London river cruise with wine and dancing to celebrate the holiday season, a murder mystery night on the water, or perhaps a floating grotto with mince pies, we've put together a list of 7 Christmas river cruises to book. So, make yourself a glass of mulled wine, and let's get started!
1: London River Cruise & Dinner
Considered one of the best ways to see London's most iconic landmarks, jump on board a London river cruise and enjoy a night in the heart of the city, drinking, dining, and dancing! As you set sail down the River Thames, you'll be able to take in the spectacular views of the capital city while being thoroughly entertained with live music. After a welcome glass of bubbly, guests can indulge in a four-course Christmas dinner menu. Dine together as the sun sets, and the River Thames transforms into the perfect illuminated dining backdrop. This London river cruise lasts approximately 3 hours and will certainly get you in the mood for the festive season!
2: Thames Cruise at Christmas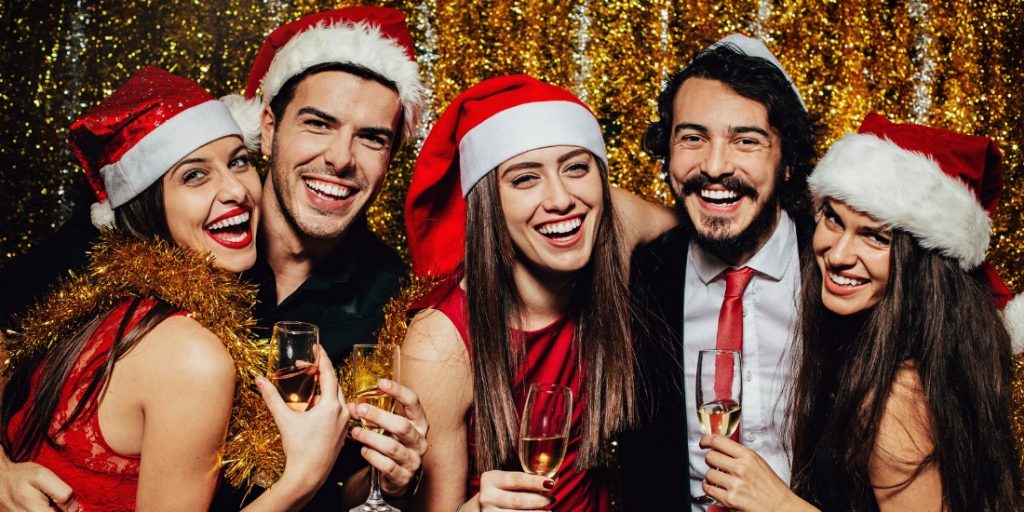 If you really want to be merry this year, make sure to book your place aboard a Thames Christmas Cruise. This particular London river cruise can be reserved for private events and will provide a unique venue for an office Christmas party. As you explore the River Thames on board your very own private character, you'll be able to soak up the festivities and enjoy a fun-filled night of drinking, dancing, and celebrating together. Cruise through the capital on this epic four-hour boat party, with Christmas catering and a live DJ keeping the atmosphere on point. You can also upgrade your London river cruise package to a VIP excursion which includes a festive party box per person, a bottle of Prosecco, plus plenty of drinks to get your cruise off to a great start!
3: See Santa in Devon
Set sail with Santa and take to the waters of the River Exe for a festive UK staycation experience. This UK river cruise has been specially designed to spread a little bit of magic over the holiday season, with Santa's Grotto just waiting to be explored. With a balloon modeller ready to impress children with his balloon creations, close-up magic to enjoy, and plenty of refreshments to keep little ones happy, it is a wonderful way to celebrate Christmas as a family. Thanks to a small troop of Elves on board, each child on this river cruise will be gifted a hand-wrapped present, and parents will be able to enjoy locally produced mine pies and a glass of mulled wine made with a homemade secret recipe. Explore Devon and step on board an enchanting floating grotto!
4: Murder Mystery River Cruise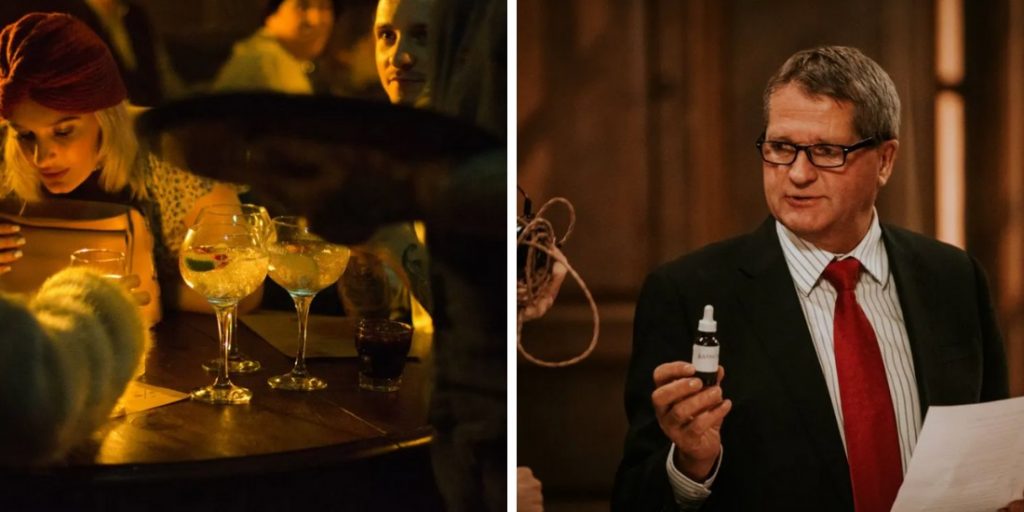 Are you searching for a festive river cruise with a twist? Why not book a murder mystery river cruise, which combines an interactive dining experience with live entertainment and panoramic views of London. Another River Thames cruise, but this time with the goal of catching a killer, test out your detective skills while you set sail across London. This immersive river cruise is not only great for Christmas but also all year round. You'll enjoy a welcome drink on arrival, a delicious three-course meal, a murder mystery event, and a three-hour river cruise down the River Thames.
5: Explore Oxford on The Water
Fancy visiting Oxford for a festive UK staycation? Well, why not explore this beautiful city while on board an Edwardian-style river launch. Travel downstream in style and at your own leisure following the same course as Oxford rowing teams! While this unique experience can be enjoyed during October, unfortunately, the English weather means it's not always possible as winter really sets in, so you best book quick! Be sure to have your camera at the ready, as you pass the charming village of Iffley. This 50-minute river cruise will cover the Thames River and visit Folly Bridge, Christchurch College, and Meadows, the university rowing houses as well as Iffley Lock. Along the way, the captain will reveal the history of the river as you float along in this eco-friendly vessel.
6: Loch Lomond River Cruise
Head to the Scottish Highlands this winter for a wee dram of whiskey while on a spectacular Loch Lomond river cruise. Take in the 12th-century castles along the way while keeping a weather eye out for the Scottish rain! But, should the wind begin to blow and the heavens open, Scottish whisky will make sure to keep you nice and warm while on board! Or, for a more exhilarating way to visit Loch Lomond, perhaps you'd prefer a speedboat experience with a Champagne picnic! This unique experience is certainly a memorable and exciting way to enjoy the magnificent views of the countryside and rolling hills. For winter bookings, enquire online to check availability.
7: York Santa Cruise
Book the City Cruises York Santa Experience and get ready to enjoy a magical event on the River Ouse. This year, Father Christmas has made a couple of changes to make sure the York river cruise is comfortable and Covid-free. Join Santa and his friends aboard Captain James Cook, a huge vessel ready to take lucky girls and boys on a festive trip. Families will have the opportunity to spend time with Santa in his magical grotto, with the chance to take photographs free of charge too! You'll be welcomed by Mary Christmas, Santa's good friend, and Ernie the Elf, who'll guide you to your seats. Each child will be hand-delivered a personalized present from Santa, and guests will enjoy refreshments, fun, and festive surprises! Adults can choose from wine, tea, coffee, and mince pies, and for children, there will be soft drinks and novelty biscuits at the ready!